Mahalo for Your Support!
King Kekaulike's McTeachers Night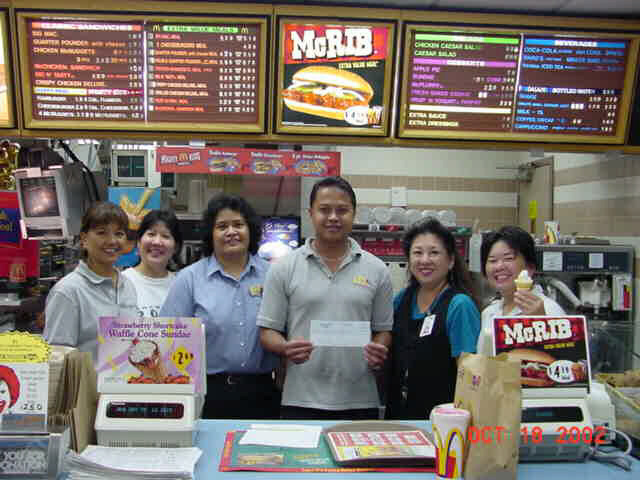 Pukalani McDonalds Dining Room
Friday, October 18th
5:00 p.m. to 8:00 p.m.
On behalf of McDonalds & King Kekaulike High School, we wish to thank all of you for coming and supporting our school! So many of you came that we had a 3 hour RUSH! Mrs. Scofield and the PCNC June Kaneshiro think they'll stick with their day jobs! It was hard work trying to keep the orders straight and do it quickly. Sorry, if we messed up your order! McDonald's owner, Grelyn Rosario and Store Manager, Maka Saltiban, were very encouraging and rewarded everyone's effort with a check after 8:00 p.m. for over $400!



Mahalo to our KKHS staff who worked in the kitchen: Susan Scofield, Trisha Grimley, Grace Shimabuku, Dale Ho, & June Kaneshiro. Ms. Grimley bought little toys, which June's Mom, Ethel Shimogaki, distributed to the children!

It was fun having our staff, students & friends stop by to eat and chat. Even funnier to see the surprise looks when Mrs. Scofield handed out the meals through the Drive Through Window! There were lots of smiles tonight!



June Kaneshiro
Parent (PCNC) Facilitator
King Kekaulike High School